Are you finding ways to spend quality time with your kids? Are you looking for easier ways to identify indoor games that help kids learn through play?​
In this resource, discover how Jump KTM is providing a platform so you, as a parent, can improve your kid's overall physical, social, and overall performance.
Watch On YouTube.​
Organize your Jumping Schedule​
When you want to get the best possible playful time, it is best when school time is over. As a parent, we focus too much on finishing their homework first. Some on their regular afternoon meals. Here's what I planned after school, that day.
I and my wife cooked meals together and packed them in a hot case.
We made a phone call to JumpKTM to learn about their opening hours and things like reservations.
We made an appointment and picked up my 3y/o from the school.
We had a good meal inside the car, and my wife was able to change my daughter's outfit.
We are all set, as this is our first time.
We were 5pax in total, including grandparents.
So where is Jump KTM Trampoline Park located?​
It is in the Mandikatar area. It is outside the ring road but very accessible from any place. It took around 20mins from Jamal to reach there. We took the road via Durbarmarg - Naxal - Baluwatar - dhumbarahi - Mandikatar.
The nearest landmark is HAMS Hospital. Here's a
google map link.
What are the tickets and prices like?​
Jump KTM offers reasonable rates and a range of ticket options to suit your needs. Don't forget to check WEEKDAYS (Monday - Thursday) and WEEKEND (Fri, Sat, Sun & Holidays)
Price lists
.
We visited on Tuesday, and we reserved time for 4.30. There wasn't much of a crowd because the management had the policy to limit the number of incoming guests.
Let's Explore via PHOTOS.​
Before that please follow the guidelines, which are displayed on the posters. It is necessary in terms of personal safety and injuries. Otherwise, there're volunteers standing by to help you.
#1​
This is the main entry area leading to the front office.​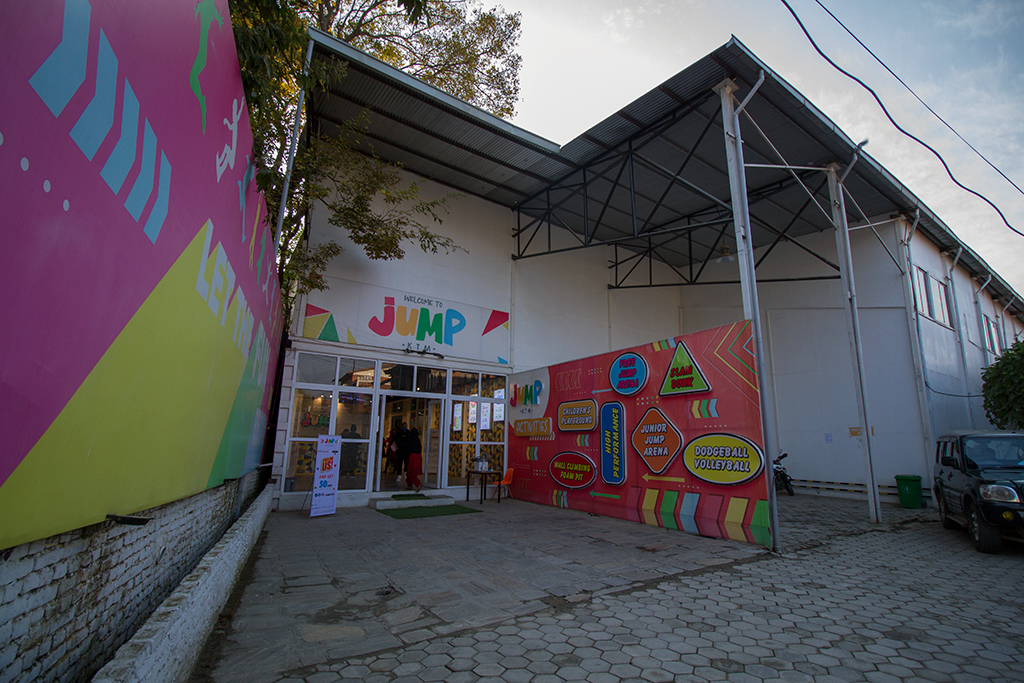 #2​
The spacious reception area is very cozy. The wallpaper colors are eye-friendly and the infographic posters are worth reading. It was already a good start.​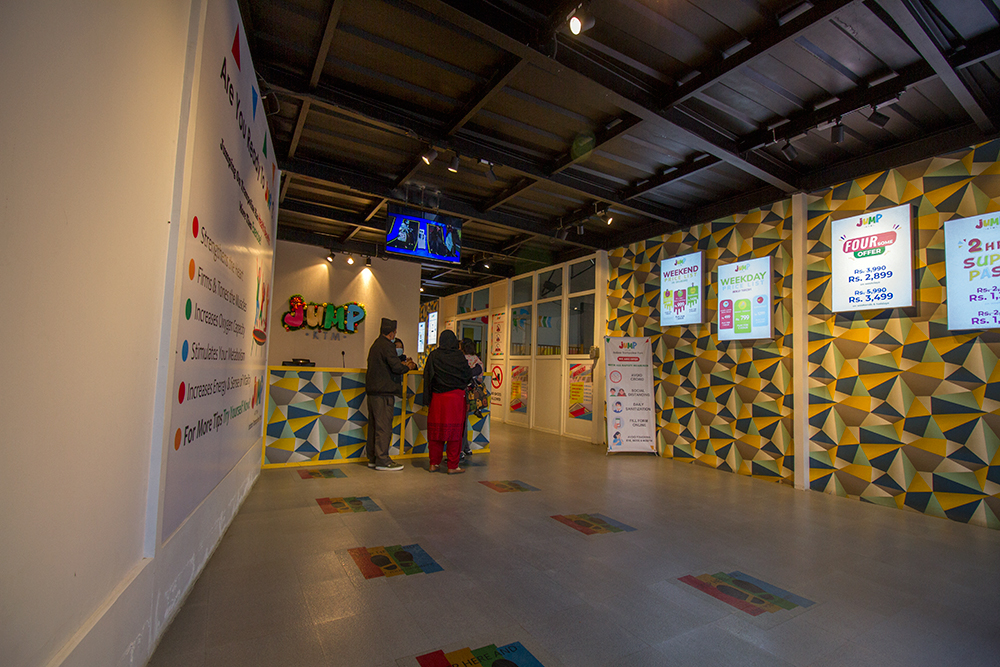 #3​
I paid Rs. 600 for an hour playtime. This included a fresh green-and black socks as​
required by the management, to enter the main area. Staffs were very friendly. The officer will provide a yellow TAG with a time on it. That's when your play time gets over.​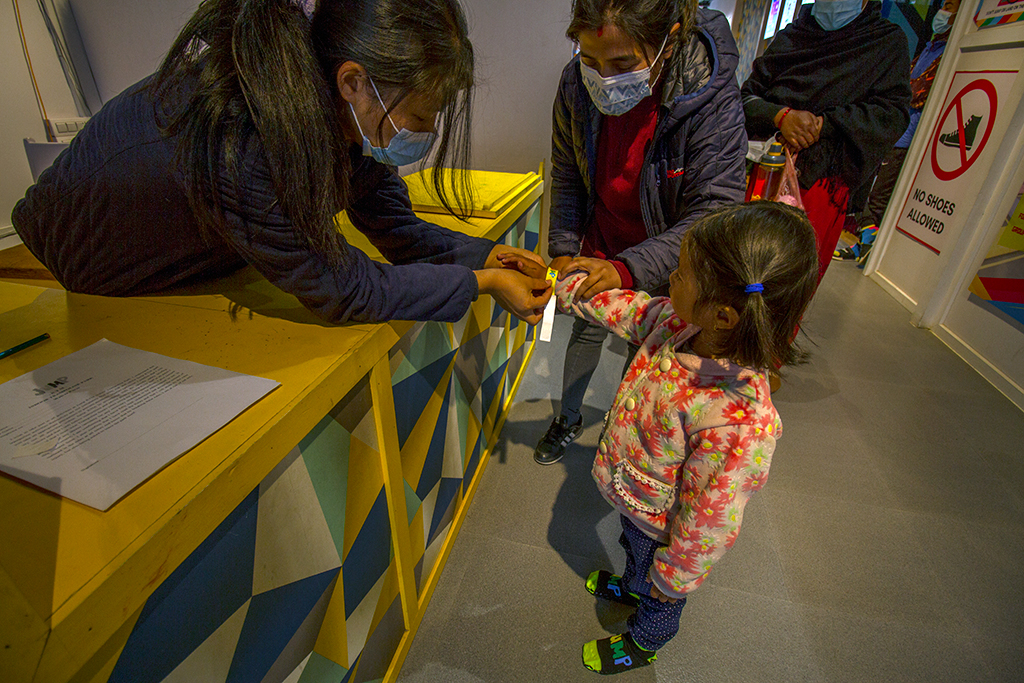 #4.​
The lush green backyard area. I called it the waiting place. Indeed, it is. When you have to wait, the ample backyard has more space to pass the time. Alert: the green grass is synthetic type, but you can run, and wiggle on it. Watch it, cause at some points the green surface is not flat.​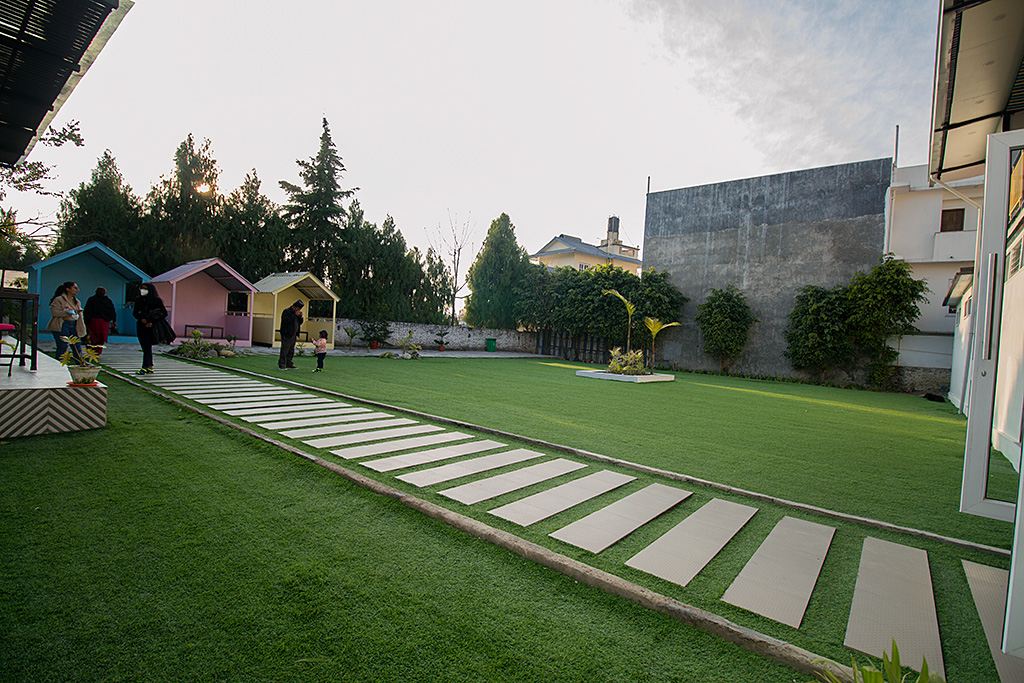 #5.​
I think the evening time is a good time to stay there, say around and between 3PM-5PM. The neighborhood is very quiet, Trees all around. The backyard design makes you stay and enjoy with peace.​

#6​
A view from the other side of the backyard. The trees are real, by the way.​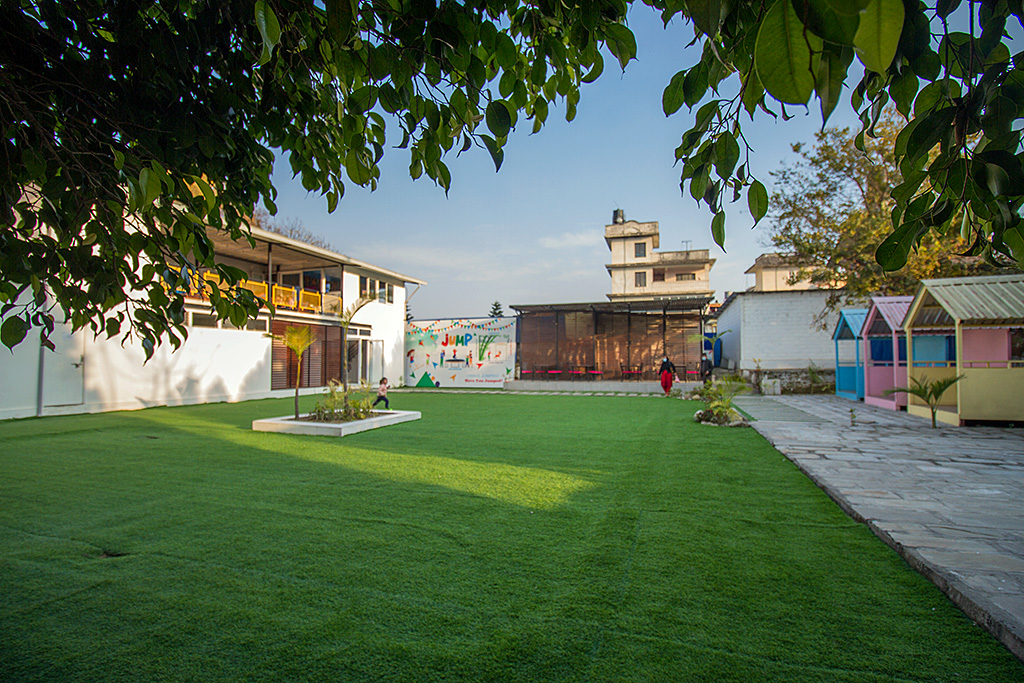 #7​
More space to rest. I told you the Jump KTM's backyard is well designed. Take a look at this resting space below. It has a nice shed. Where you can enjoy tea or coffee while watching your kids play at the same time.​
#8​
The yellow cabinets are locker and shoe racks. Your personal shoes are not allowed inside the trampoline area. The area is really really clean. Thanks to its management. By the way, you can expect same cleanliness in the washroom area.​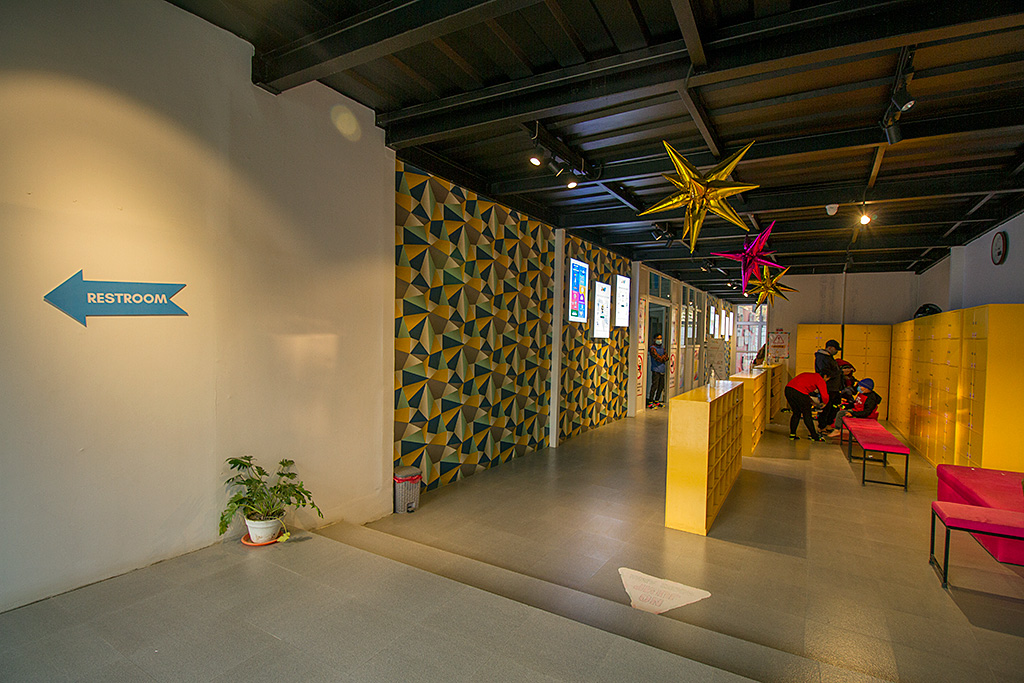 #9​
The main entrance. Remember, the walls have lots of infographic posters. Follow the guidelines, in case of difficulty, ask the officer to help you explain. Also, you won't be able to carry along DSLR or sophisticated cameras inside the trampoline area. Just respect the rules to put yourself in the safe place.​
Remember that only one-person is allowed to accompany your child.​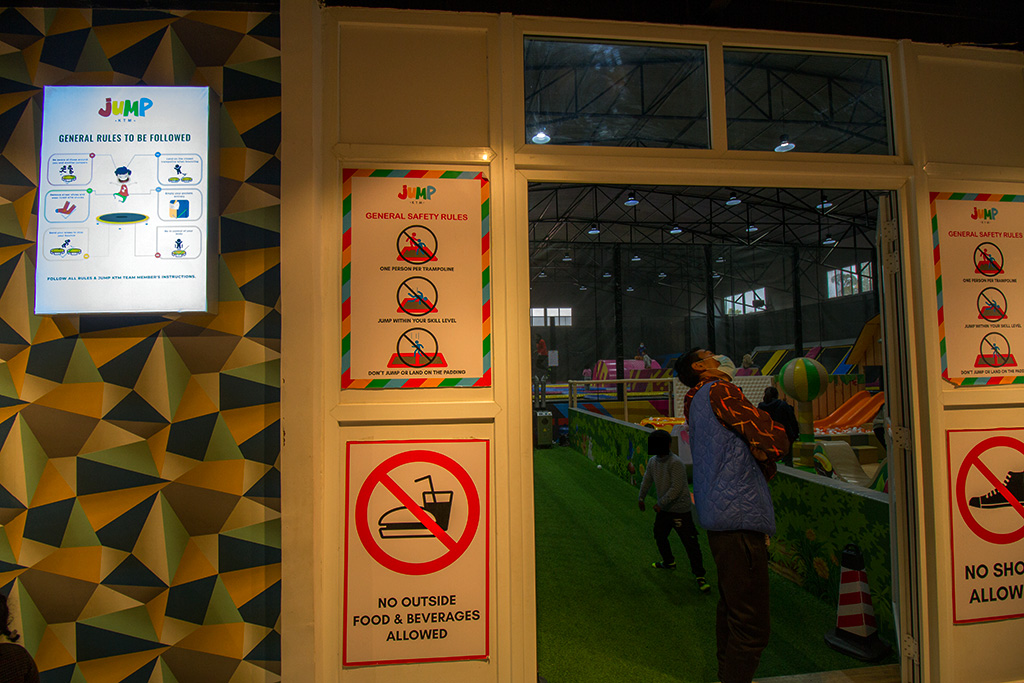 #10​
Like said above, you are not allowed to enter more than one person. (but you can pay and play).​
You will be asked to stay upstairs. It's a cafeteria. They serve tea/coffee/muffins and cakes, with reasonable price. It has a long and wide and spacious place. It has a top view where you can witness all the performances.​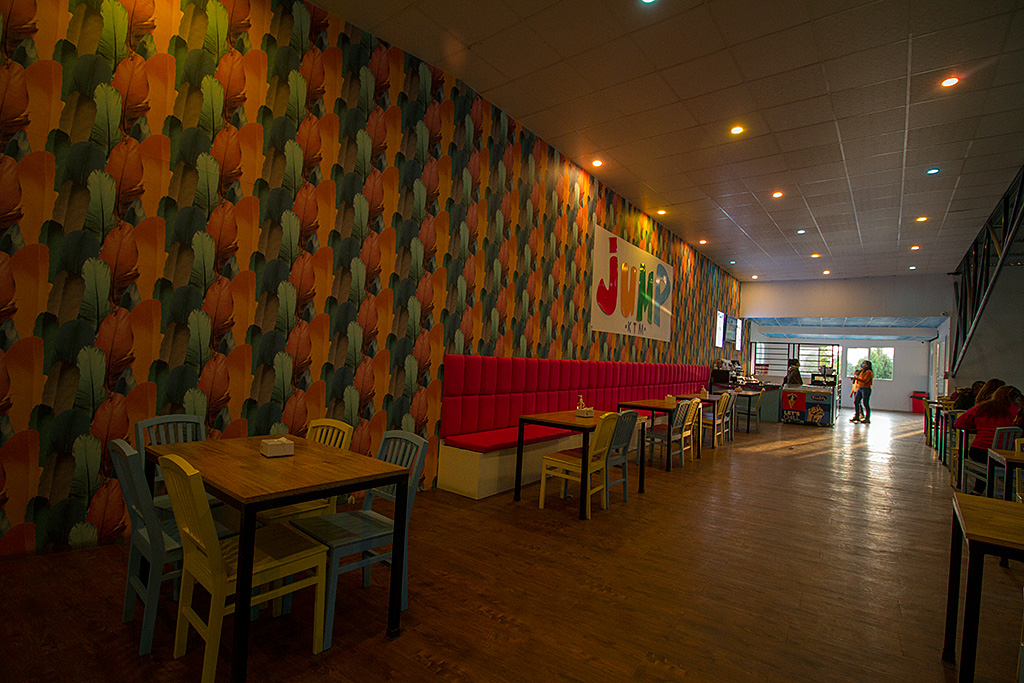 #11.​
A fine place to sit and watch, especially, when you are with a family.​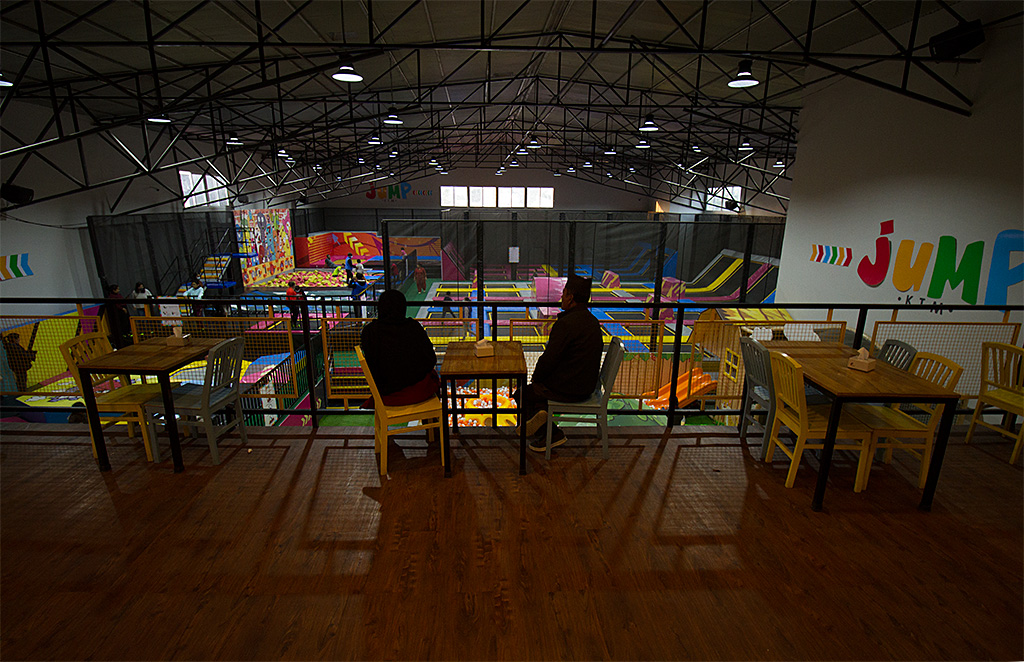 #12​
The main trampoline area. This is the place to jump. This is the place where you challenge your child's stamina and walk him/her around. Challenge in the sense of encouraging your child to touch the ground and play their level best.​
Because there are a lot of health benefits of Trampoline exercise; such as,​
Better core muscle strength,​

Improved joint mobility density; and,​

other fitness related.​
Don't you think so? Reply me in the comment.​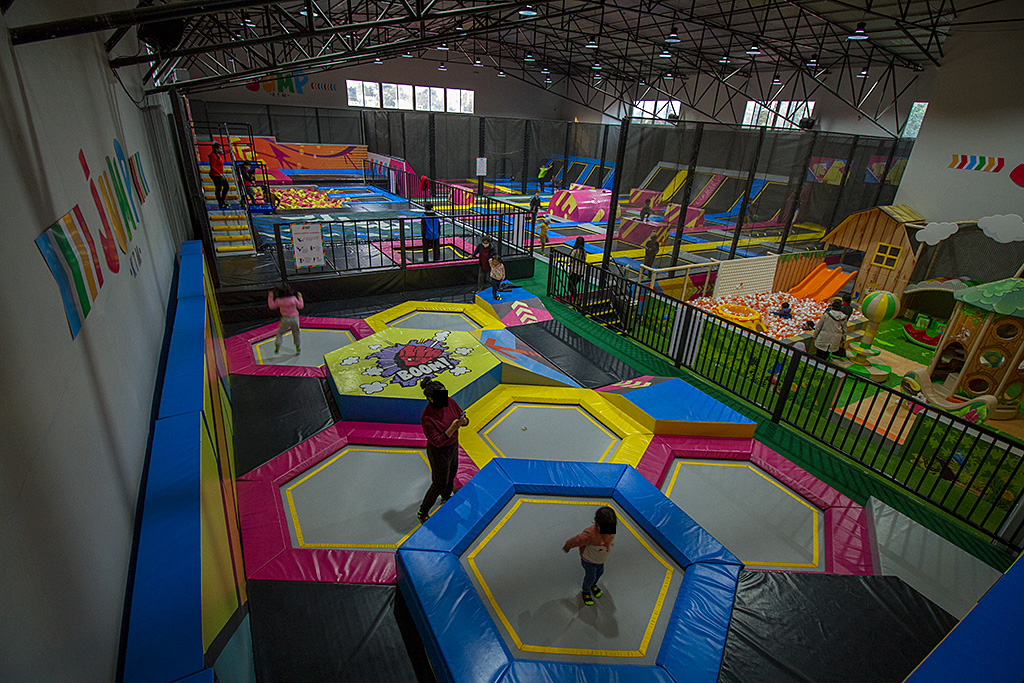 #13​
Like said above, the management of JUMP KTM is smart. Because it looks like the different trampoline sections are separated for different age groups. (The guidelines are clearly stated at every section)​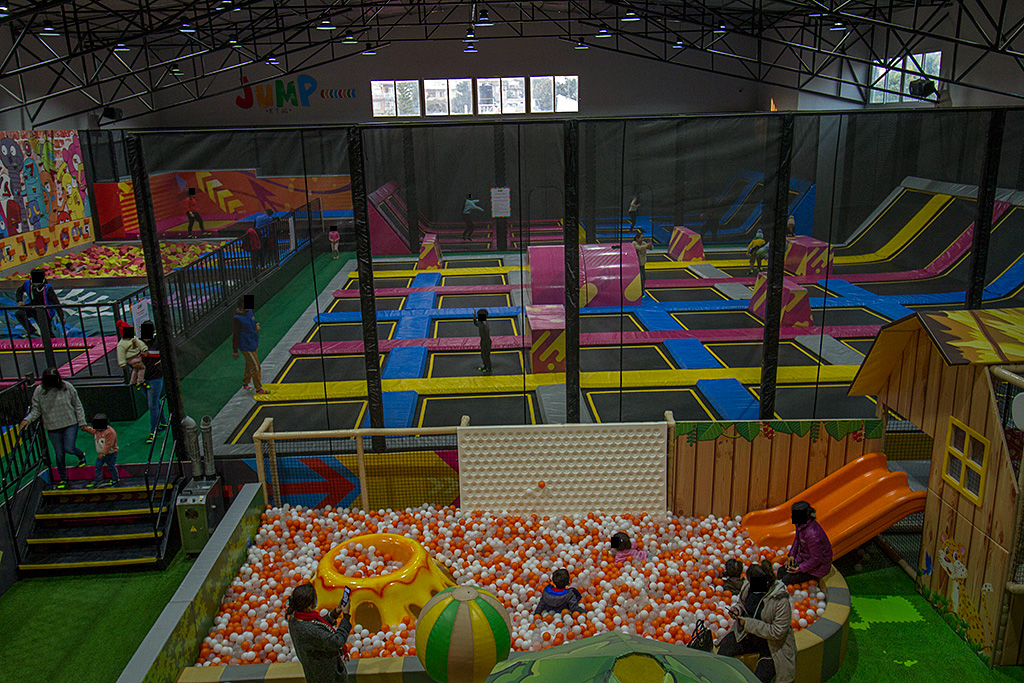 #14​
The area is neat and clean. The below area does not have trampoline. Toddlers may enjoy this section because at every corner there are something to see and play. It is not confusing to anyone at all.​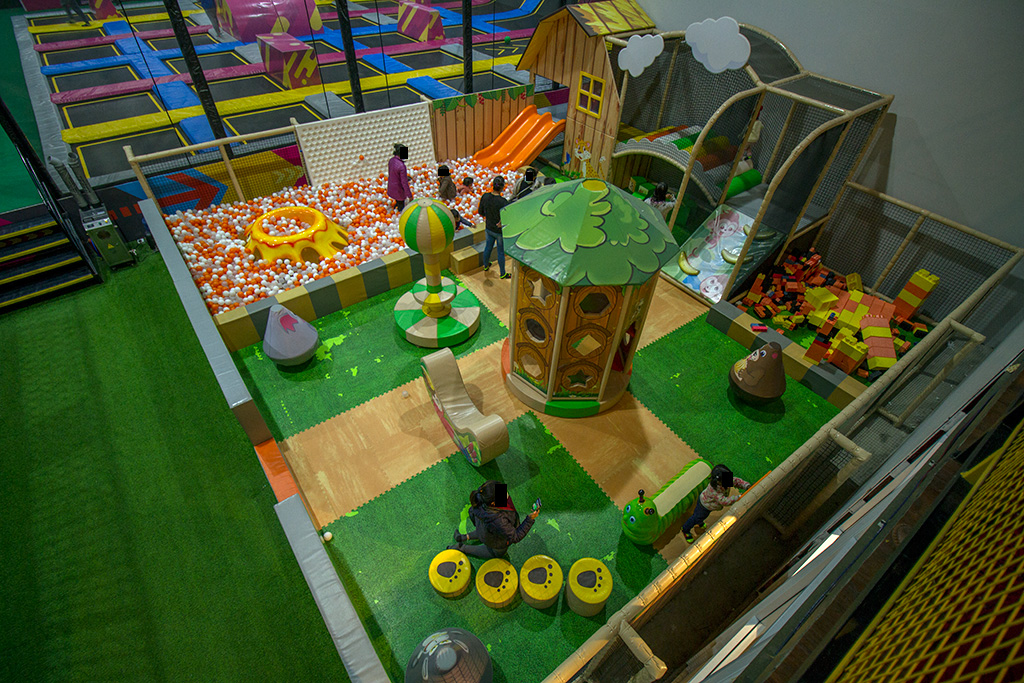 #15​
Just enjoy and be happy. An hour spent there is relaxing. As a parent, it is fairly priced place.​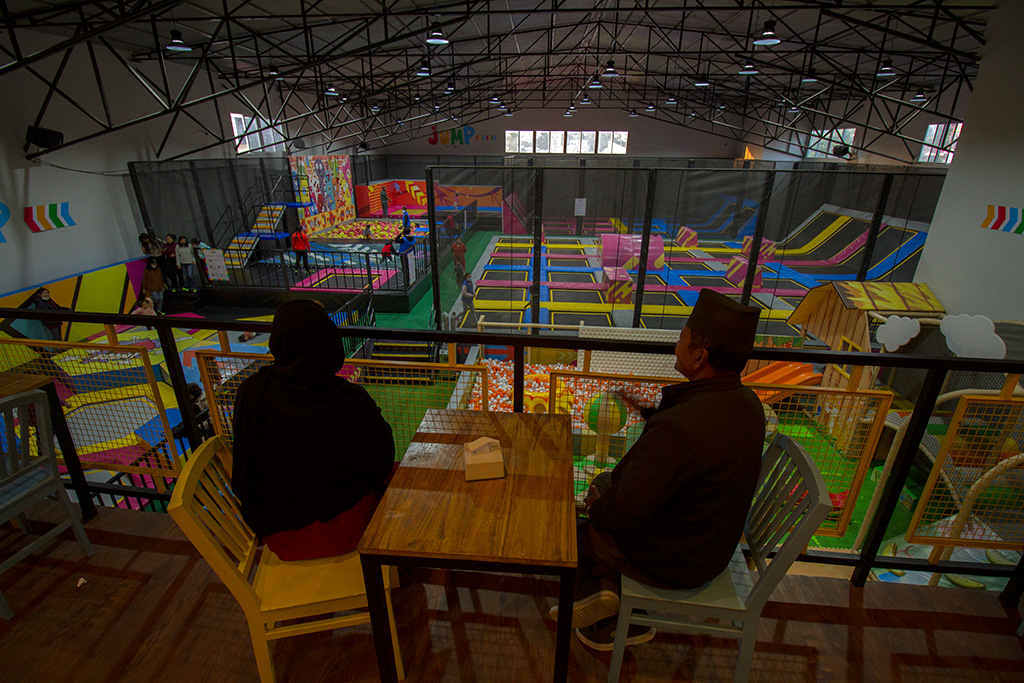 #16​
Nevertheless, if you need to grab a fresh air, it has a terrace like open-space.​
That also means the overall functional design of the JUMP KTM place is so logically created that it can be sensed that the designer has​
a customer-service mindset,​

kids safety oriented,​

the place itself, strategically located,​

and every bit of space is creatively used.​
On top that the fees and the offered services are value for money.​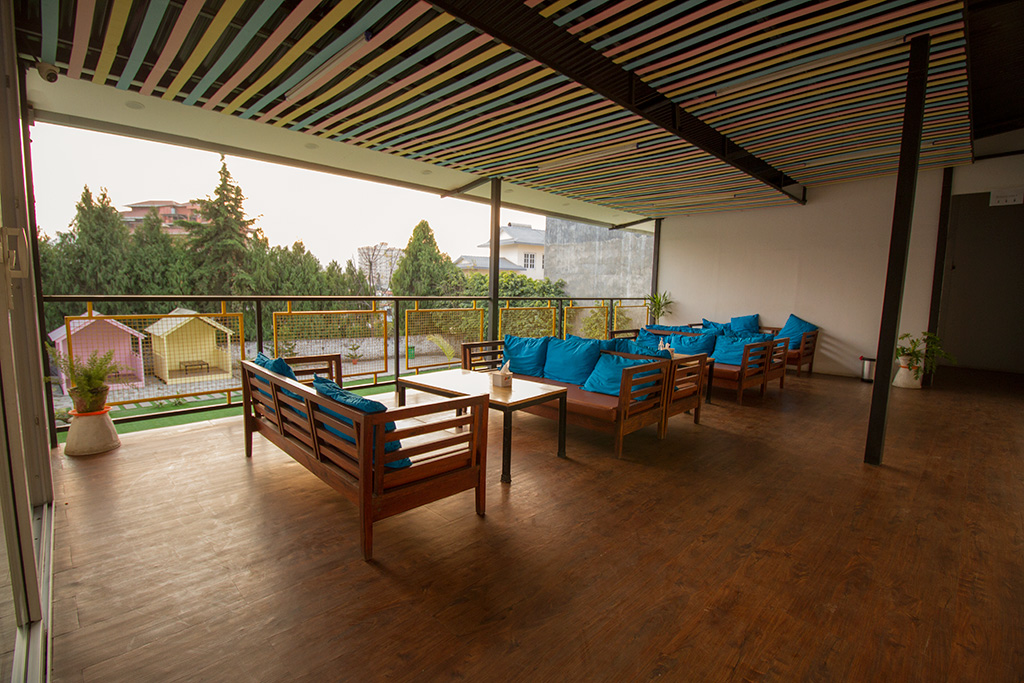 Conclusion​
Kathmandu city used to have baha-bahi, a.ka. chowks or say open-spaces as a playground. Slowly the city is over-filled with real estate and those spaces are being been used as a vehicle parking, nowadays.
The person behind the JUMP KTM seems to be aware of that. And by opening a trampoline park, the owner has understood the one problem out of many and filled the gap of need to play.
This place is, certainly, making every childhood experience better.
What is your analysis? Reply me on
Instagram
. or comment here.
Good luck with that.
---
Do you want me to write a
similar content
for your business property?
I can do that. Get in touch with me - via email below:
---