Here's my recent blog on traveling to Sisneri.​
Quick Info
Place: Sisneri, Makwanpur
Starting Point: Thamel, Kathmandu
Duration: 2-3 Hours DriveRoute: Thamel- Teku- Balkhu- Pharping - Dhachinkali Kulekhani - Sisneri
Fees: 50Nrs Entry Charges
Facilities:
- Parking Available
- Changing room + Shower room available nearby to Pond.
Trip Highlights: -
Dakshinkali Temple - Pharping HydroPower Dam - Offroad ride - Panoramic views and sisneri
Food & Accommodation:
There are few local tea shops where you can enjoy your local cuisines near sisneri. If you want to stay for night there are, we found only one resort named 'Chaimale Resort' which we have to pass by to reach sisneri. There is a small bazaar at the top. There are few teashops there where you can have snacks and order your meal.
Intro:
Sisneri is a breathtaking wonderful place located at Makwanpur district at aprrox 33km from Ktm. We headed on the journey on our bikes as the normal bus route was available only upto Dakshinkali. Most of the roads were not black topped so it was an off-road experience for us.
We (had) have been planning to travel Sisneri since a few weeks back but were not able to make it. We had heard lots of things about the place; we browsed on lots of photos and videos on various social Media that took our excitement to next level. So besides our hectic schedule, we decided to reach there. We started our ride at 11:30am from Teku, but it was already too late to start the journey and hoped to reach our destination around 2pm. We went on our three bikes with pillion ride. Unfortunately, on the way to the journey, one of our bikes got Puncture in Chaimale that made our ride more difficult.
We asked few locals for the help if there was any Motorbike repairing center nearby. Few locals told us the nearest bike repair center is at Sisneri only. Without losing hope and with courage we somehow managed to reach sisneri with our punctured tier. After an hours of off-road drive, finally, we came across the Natural swimming pool. It was quite peaceful. Not a very big pool but it was enough for us to beat the summer heat. The water was crystal clear. We could see people taking a dip and fish in the water.
Enjoying swimming with friends.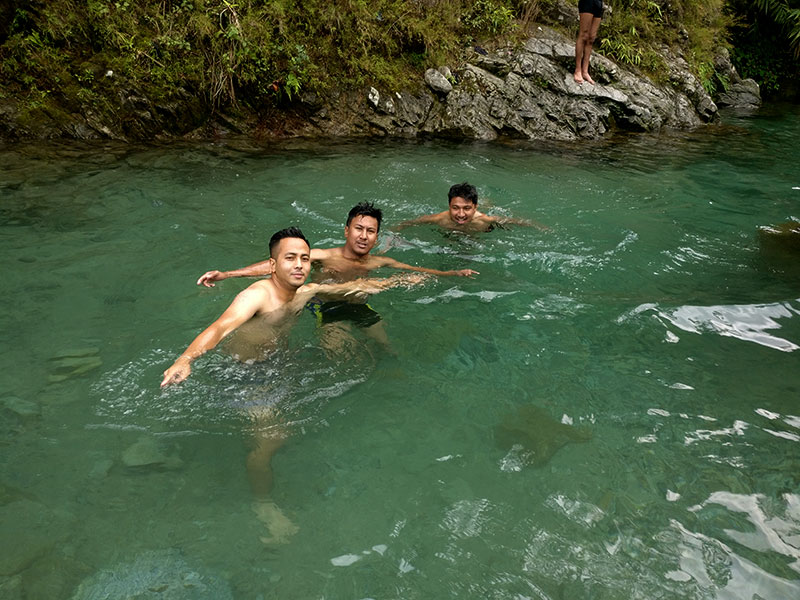 We couldn't stop ourselves to dive in the pool. We had to pay NRs.50 as the entry fee. There was Separate Shower and changing room available nearby the Pond. We relaxed and enjoyed swimming for around 2 hours. It was a fun day, after all, everyone was tired of their daily work and enjoyed the outing by dipping in the cool water, taking pictures, videos. We also enjoyed the local cuisines at the local tea shop found on the way to the journey.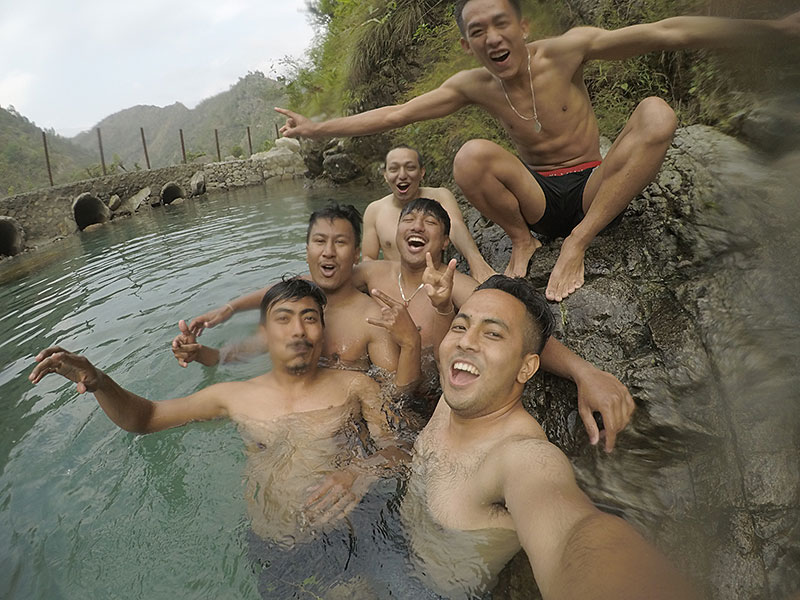 Our last group picture of the day!

We made a video from our Sisneri trip>

Note:
Be Sure to carry a mask when you travel as the roads are dusty and offroad.
Please do not litter around the pool as it is our prime responsibility to preserve the natural site.
Be sure to carry Towel, Swimming and proper hiking shoes.
Follow us for more Travel blogs and Photos at :
http://instagram.com/citymotorbike
Text / Photos:
Sujan Maharjan, Sujit Prajapati
-End of text-